Forget being a little princess, let these inspirational queen quotes motivate you to remember who wears the crown!
How often do you celebrate the women in your life? Do you acknowledge and appreciate the contribution of your mother, sisters, wife, daughters and other such women in your life?
Despite the sacrifices women make to ensure our emotional and physical well being, we take it for granted because we assume it's their duty. It's time we treated all women with the respect that queens deserve. They play a variety of integral roles in our day-to-day lives.
If you're a woman, you have a royal highness in you, so let these queen quotes inspire you to keep your head held high and make others take notice. Let these words remind you of the huge role you play in shaping the world.
As the popular phrase goes, "Behind every successful man, there's a woman." Women nurture our dreams and aspirations. They are our core creators and the engines of our lives.
To help you celebrate the women in your life, below is our collection of inspirational, beautiful, and majestic queen quotes, queen sayings, and queen proverbs, collected from a variety of sources over the years.
Queen quotes celebrating the women in your life
1.) "Women are the nourishing power of the Universe. Whoever has deep respect for women of the world, will remain free from diseases." ― Amit Ray
2.) "You better treat her like your queen, if you want to be treated like a king." – Moosa Rahat
3.) "I want to encourage women to embrace their own uniqueness. Because just like a rose is beautiful, so is a sunflower, so is a peony. I mean, all flowers are beautiful in their own way, and that's like women too." –  Miranda Kerr
4.) "It's like chess, you know. The Queen saves the King." – Terry Pratchett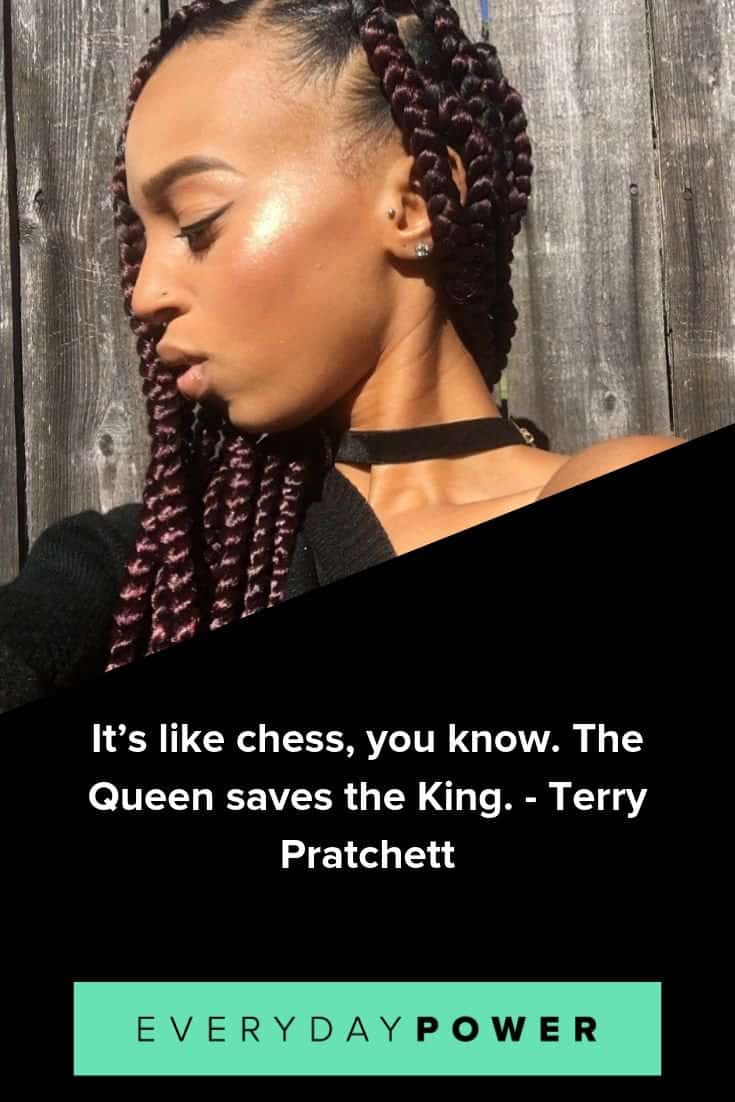 5.) "As women, we have superpowers. We are sisters. We are healers. We are mothers. We are goddess warriors." –  Merle Dandridge
6.) "My Queen, this is for you. I bring you the stars, the stars from the borderless sea." – Matt Suddain
7.) "It's always wonderful to get to know women, with the mystery and the joy and the depth. If you can make a woman laugh, you're seeing the most beautiful thing on God's Earth." –  Keanu Reeves
8.) "If a man does not treat you like a princess during courtship, he will not treat you like a queen during marriage." – Matshona Dhliwayo
9.) "You are a queen that demands respect and God will bring the right person into your life to make you forget why you ever wasted your time on nothing important." – Shannon L. Alder
10.) "I love the way he says my name. With the elegance and utmost respect of a King, just before he bows to his Queen." – M.J. Abraham
Queen quotes on why all women deserve to be treated like royalties

11.) "The strength of a kingdom comes from its King, The strength of a King comes from his Queen." – Cody Edward Lee
Miller
12.) "I think women are foolish to pretend they are equal to men; they are far superior and always have been." – William Golding
13.) "A queen—a queen who bowed to no one, a queen who had faced them all down and triumphed. A queen who owned her body, her life, her destiny, and never apologized for it." – Sarah J. Maas
14.) "You are enough to drive a saint to madness or a king to his knees." ― Grace Willows
15.) "In every woman, there is a Queen. Speak to the Queen and the Queen will answer."  – Norwegian Proverb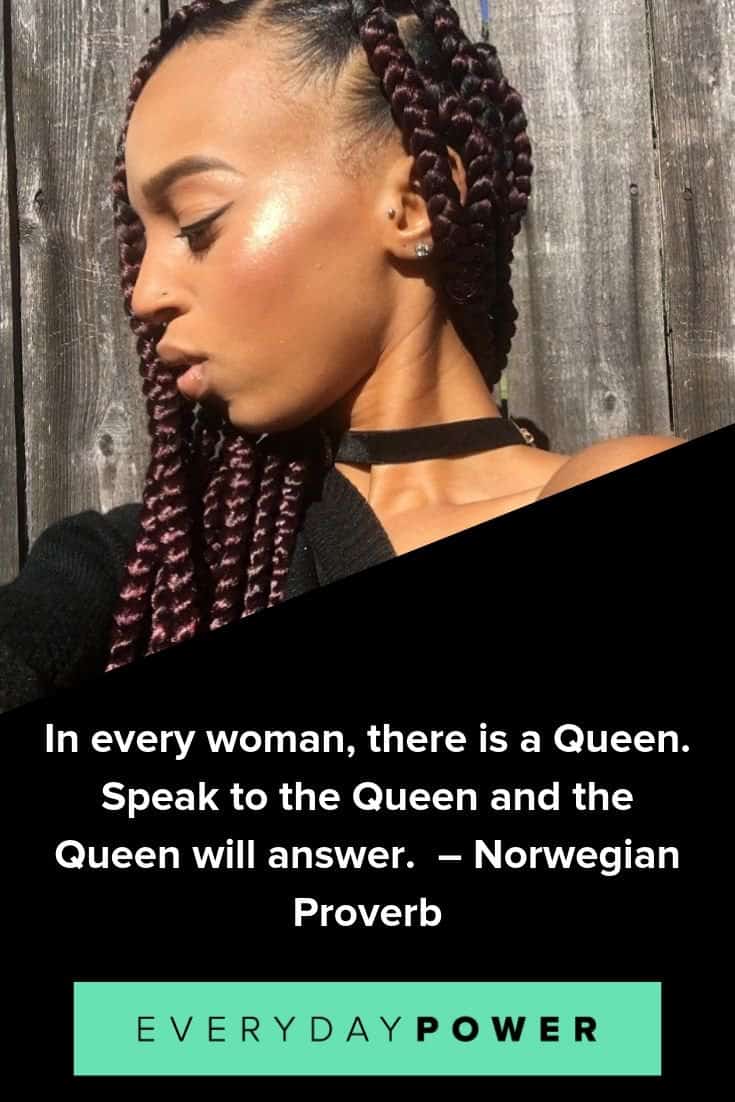 16.) "I like a man who looks like a bad boy but knows how to treat a woman like a queen." – Candice Swanepoel
17.) "Women are the largest untapped reservoir of talent in the world." – Hillary Clinton
18.) "Think like a queen. A queen is not afraid to fail. Failure is another steppingstone to greatness." – Oprah Winfrey
19.) "Being the Queen is not all about singing, and being a diva is not all about singing. It has much to do with your service to people. And your social contributions to your community and your civic contributions as well." – Aretha Franklin
20.) "Her hair is full of icy wind and daylight. She is every princess, every queen, in the history book." – Lauren DeStefano
Queen quotes to celebrate the contributions women make in your life

21.) "A man who treats his women like a princess is proof that he was raised by a queen." – Wiz Khalifa
22.) "Strong women wear their pain like stilettos. No matter how much it hurts, all you see is the beauty of it." – Harriet Morgan
23.) "God gave women intuition and femininity. Used properly, the combination easily jumbles the brain of any man I've ever met." – Farrah Fawcett
24.) "I do not want a husband who honors me as a queen, if he does not love me as a woman." – Elizabeth I
25.) "Every woman is a queen, and we all have different things to offer." – Queen Latifah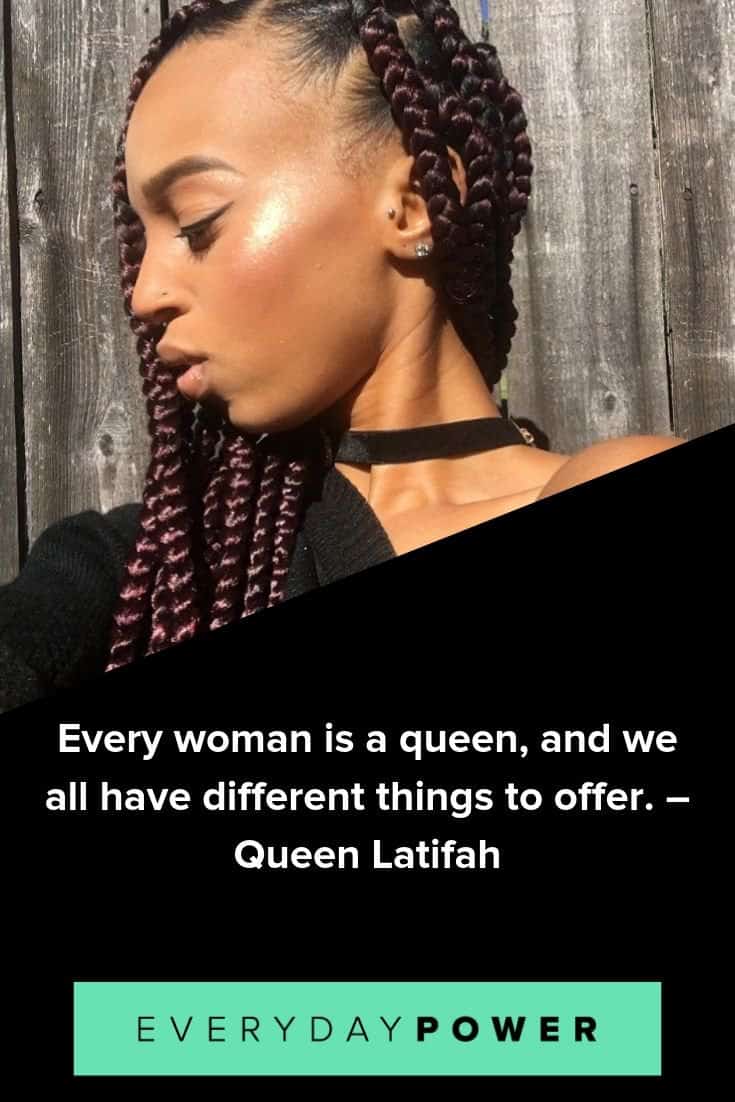 26.) "A queen could leave her throne. But a mother never leaves her son." – V.E. Schwab
27.) "Women are leaders everywhere you look — from the CEO who runs a Fortune 500 company to the housewife who raises her children and heads her household. Our country was built by strong women and we will continue to break down walls and defy stereotypes." – Nancy Pelosi
28.) "If you want something said, ask a man; if you want something done, ask a woman." – Margaret Thatcher
29.) "You make the world come alive. You make the world colorful. You are the inspiration behind all that happens. You are the pillar of strength to many around you, the centrifugal force of your own little world, called family." ― Deeba Salim Irfan
30.) "I look those haters straight in the eye, keep my chin up and shoulders back. Because I know I'm a fierce queen – and they know it, too." – Alyssa Edwards
Queen quotes to appreciate the women in your life
31.) "You are a Queen. Let mine be the joy of giving you your kingdom." – Katherine Mansfield
32.) "A strong women is someone who is able to smile this morning like she wasn't crying last night." – Harriet Morgan
33.) "Whatever glory belongs to the race for a development unprecedented in history for the given length of time, a full share belongs to the womanhood of the race." – Mary McLeod Bethune
34.) "I've always said, if you treat yourself like a queen, you'll attract a king." – Pepa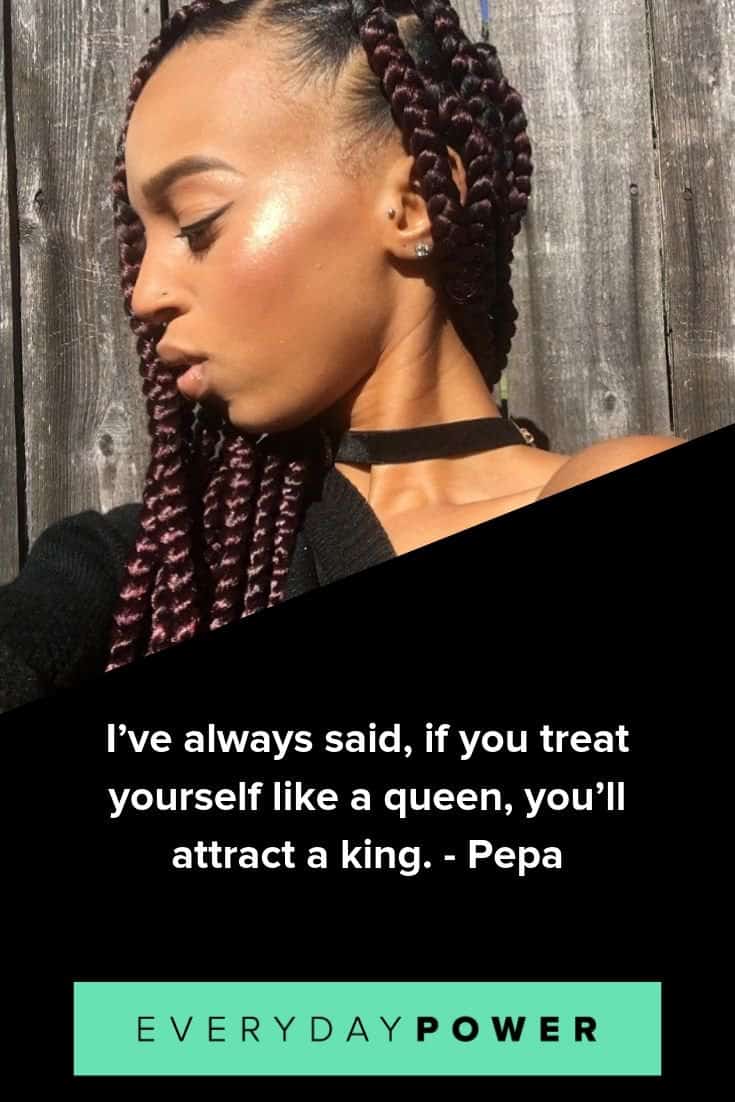 35.) "I just want to say to women, 'Be yourself – it's the inner beauty that counts. You are your own best friend, the key to your own happiness, and as soon as you understand that – and it takes a few heartbreaks – you can be happy." – Cherie Lunghi
36.) "The Queen is the only person who can put on a tiara with one hand, while walking down stairs." – Princess Margaret
37.) "Woman is the companion of man, gifted with equal mental capacity." – Mahatma Gandhi
38.) "There was a time when men thought it was sexy to have a housewife waiting for him to come home from work in her slippers, but in modern society, I think an independent woman is even more sexy." – Kat Graham
39.) "To be a queen of a household is a powerful thing." – Jill Scott
40.) "Anyone could see that this woman is living a nightmare. Except that she goes through her daily life wide awake, knowing that she could make a mistake at any moment." ― Núria Añó
Other inspirational and majestic queen quotes
41.) "Women are the real architects of society." – Cher
42.) "A woman is like a tea bag – you can't tell how strong she is until you put her in hot water." – Eleanor Roosevelt
43.) "I love strong women, not only in life but in craft." – Brad Garrett
44.) "I didn't know what I wanted to do, but I always knew the woman I wanted to be."- Diane Von Furstenberg
45.) "The Queen rarely loses her temper, but when she does, she brooks no argument." –Ingrid Seward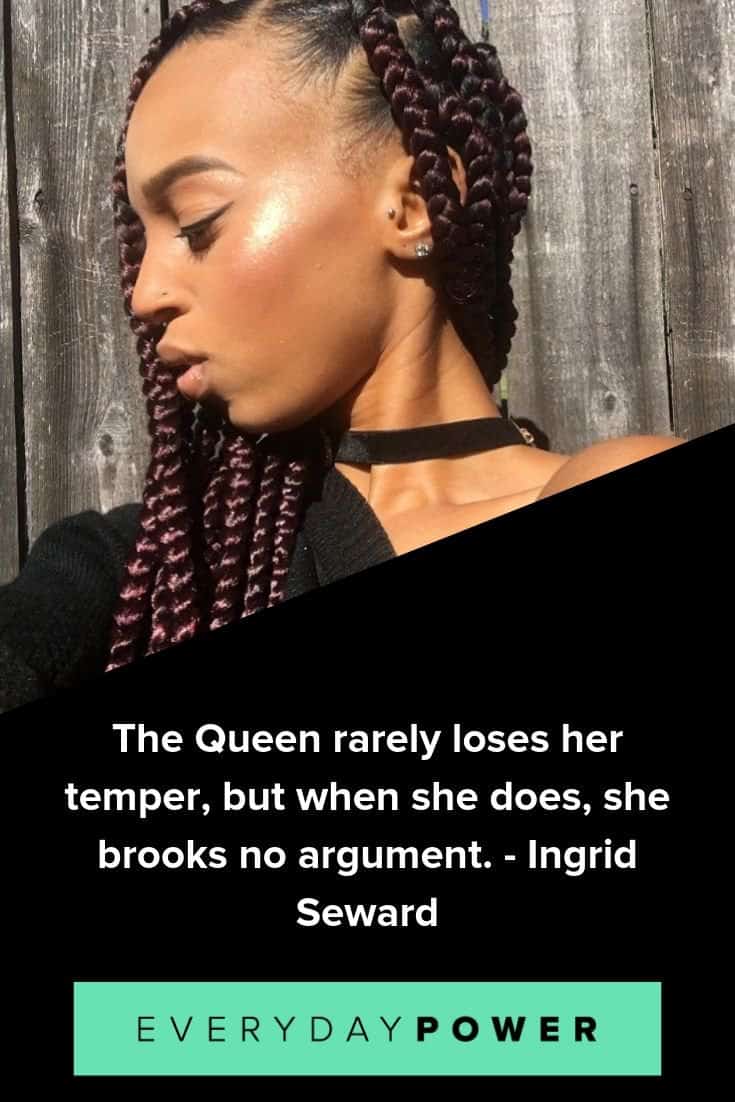 46.) "A woman that knows her worth doesn't measure herself against another woman but stands strong, calmed and self confident." ― Auliq Ice
47.) "Always wear an internal crown and have a queendom mindset. A queen is a leader and role model." – Janna Cachola
48.) "What makes you different or weird – that's your strength."- Meryl Streep
49.) "Whether women are better than men I cannot say – but I can say they are certainly no worse." – Golda Meir
50.) "A lot of people would say 'sexy' is about the body. But to me, 'sexy' is a woman with confidence. I admire women who have very little fear." – Allegra Versace
Which of these queen quotes was your favorite?
All women deserve to be treated like queens. Whether it's a relative, a friend or a mentor, you should make the women in your life feel appreciated, valued and special, today and every day.
Many of us attribute our success and achievements to the women in our lives. We hope the above quotes have inspired you to reflect on the ways we can support, encourage, love and empower them.
Did you enjoy these queen quotes? Which of the quotes was your favorite? Let us know in the comment section below. Also, don't forget to share with your friends and followers.