UPDATE, 4:32 p.m. ET — Another insider is revealing more information about what exactly went wrong between Miley and Liam. Speaking to People on Sunday afternoon, several hours after we initially published this post (below), the new insider added some more behind-the-scenes info about the breakup and fall-out:
"This split isn't shocking to people who are actually with them every day. After they reunited [originally back in 2015], everyone thought they were this 'perfect' couple, but they still had a lot of issues. They're not on the same page when it comes to a lot of fundamental things that make a relationship work. It's not surprising at all."
Wow! This is similar to problems we've heard from other sources, too, so it sure seems legit. And it really sounds like everyone in the inner circle could see this one coming from a mile away, even if fans ended up very surprised on Saturday night when the news first broke. Relationships are hard!!!
____________________
We're still surprised at the sudden split between Miley Cyrus and Liam Hemsworth — but as we dig deeper on this one, it turns out the breakup wasn't so sudden, after all.
The 26-year-old singer and her 29-year-old now-estranged husband had been together for less than a year before officially announcing yesterday they'd split, shocking the entertainment world and leaving fans wondering where things went wrong. But as it turns out, things hadn't been great for a while now, and after months of trying to force the relationship to make it work, the pair decided it'd be better to just go their separate ways.
Related: Miley's Beloved Pet Pig Has Died — Oh, No!
According to a source who spoke at length to E! News about the breakup and its aftermath, Miley and Liam had hit a plateau over the last few months, and were grinding it out trying to make things work. This got old fast, as you might suspect — and eventually it became obvious it'd be better to just scrap it all and start over separately.
The source said (below):
"They were drifting apart. They have been trying to make it work for months now but haven't felt they were connecting on the level they were feeling when they got married last year. It's been a rough year. They have been spending a lot of time apart."
The last part there is especially true.
The Wrecking Ball singer has spent a lot of time in the studio over the past year, as well as going back on tour in Europe, and the time spent there clearly affected the couple's relationship.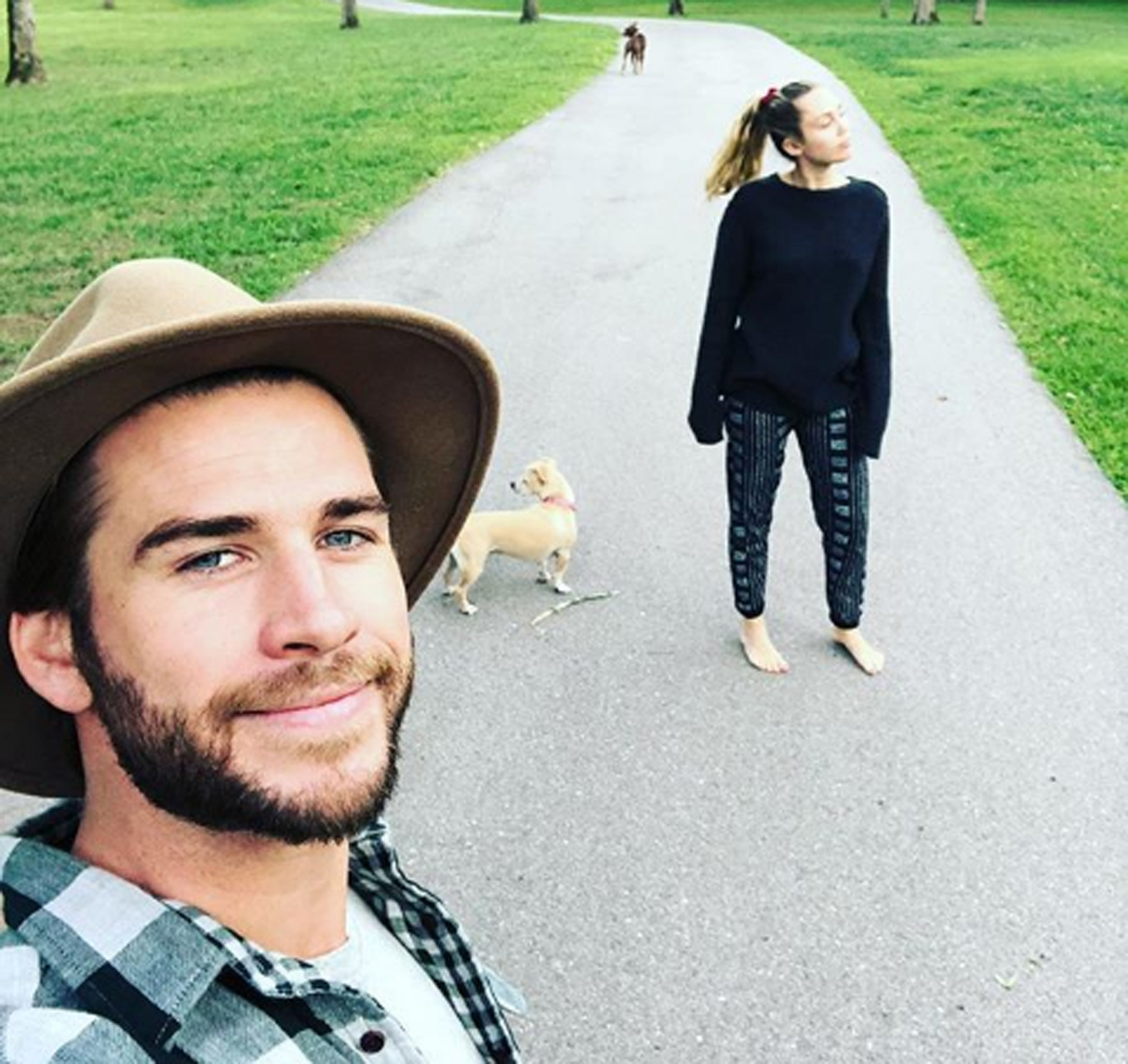 And it sounds like the pair didn't see eye to eye over lifestyle, either; the insider further reports Liam has greatly simplified things in his life in a bid to cut out the distractions to focus on what's important to him.
Meanwhile, Miley is gearing up for a new wave in her career — and she wants to ride the wave wherever it may take her. Those two things weren't exactly compatible with each other… and it was only a matter of time before the rift grew.
The insider said (below):
"[Liam is] focused on a more simplified lifestyle while Miley has been preparing for a new wave of her music career. She has been ready to put out music and be back in the game touring and performing. They really grew apart. Miley and Liam have still been communicating and it wasn't a messy split but they have decided they are at different points in their lives currently."
Sad to hear it… but honestly, a very mature by both of 'em!
Of course… we all could've seen this coming a little bit last month, when Miley opened up in a separate interview about her "unique" marriage. The former Disney Channel star got real about her "complex and modern" relationship and raised some eyebrows by admitting she was still attracted to girls, saying (below):
"I think it's very confusing to people that I'm married. But my relationship is unique… And I don't know that I would ever publicly allow people in there because it's so complex, and modern, and new that I don't think we're in a place where people would get it. I mean, do people really think that I'm at home in a f–king apron cooking dinner? I'm in a hetero relationship, but I still am very sexually attracted to women. People become vegetarian for health reasons, but bacon is still f–king good, and I know that. I made a partner decision. This is the person I feel has my back the most. I definitely don't fit into a stereotypical wife role. I don't even like that word."
Very interesting — and very prescient, as it turns out now!
About Those Girls…
So, TMZ has plenty more pics of Miley and Kaitlynn Carter kissing poolside in Italy this weekend (see 'em HERE). This no doubt came as a BIG shock considering the parties involved. But Brody Jenner's ex has been friends with Miley for "a long, long time," the outlet reports, so there's real history there. And now, whether a serious thing or a fun fling, they appear to be more than friends…
Related: No Way Miley Performs At The VMAs This Year!
Liam and Miley have had ups and downs before, of course; the pair has been on-again, off-again a few times, including a 2012 engagement that was later called off, and a very high-profile 2015 reconciliation. Point is, perhaps they'll yet find each other once again.
But for now… they're going their separate ways.
Reactions, Perezcious readers? What do U think about this breakup and the aftermath? How about the Kaitlynn Carter news?? Sound OFF on everything in the comments (below)…
[Image via WENN]